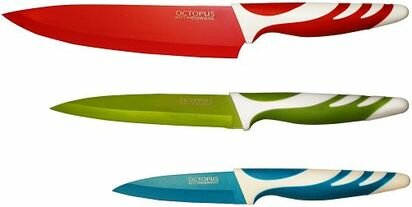 ​Welcome To The
Ringing In 2016
Colored Knife Set Giveaway
Sign Ups
Hosted By
PaulaMS' Giveaways, Reviews, & Freebies

Co-Hosted By
?????
Sponsored By
This giveaway will include an 
 which you can change to your own so that you will have an opportunity to earn commission.
Dates: January 10th, 2015 at 12:01 am EST through February 10th, 2015 at 11:59 pm EST

Prize:  One lucky reader will win a Colored Kitchen Knife Set including 3 Quality Kitchen Knives - Paring, Utility, Chef Knife 
The Hashtag for this opp will be #coloredknife
Giveaway open to US residents 18 and older
Sign Ups End January 7th at 6 AM
2 FREE LINKS
1 FREE Link for Promoting the BLOGGER OPPORTUNITY  and 1 FREE Link for Posting the GIVEAWAY within 24 hours of it starting
You can choose Any Two 
Social Media Accounts
*
Co-Host spots are available for $5
Included is a co-host page with any 5 links of your choice* in addition to the 2 free for a total of 7 plus a link back to your blog.
Paid Options
Any Additional links from the Free Link Options Above, Daily Votes, Page Visits, Retweets, CAPTCHA Subscriptions, and Blog or Facebook Comments are $1 each or 6 for $5. Limit 6 per person
Secret Word Pages
Available for $3 (I provide the HTML) or $2 (You Create)
*Anything you like as long as it meets user terms of service (ie no mandatory Facebook likes allowed)
Please send Paypal payment to 
Put COLOREDKNIFE in the comments
Get Announcement HTML 
Sign Up on the Form Below or 
If you are a 
Preferred Giveaway Ambassador
 you do not need to do anything.
I will email the giveaway HTML when it is ready. If you would like to add any paid options just fill out the express form